Part 6
No Way, Get That Thing Away From Me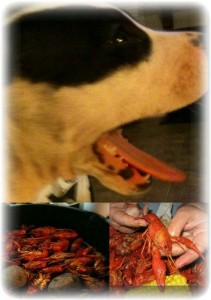 I am out of here… That thing is worst than those big things they called cows and donkeys….. Well, Cali was not impressed by the crawfish. As a matter of fact, Iris was not too impressed herself, because this is as close as I could get her to one. As a matter of fact, she only held a crawfish just long enough for me to take her picture.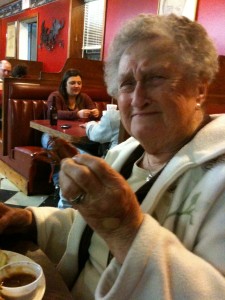 Now friends, until about 4 years ago I would have agreed with them. But Joe and I decided that we would try them out. We loved them. Now some people eat the tails and the yucky black stuff inside of the heads. Not us. We learned that you just peel the shell off, like a shrimp then eat the meat in the tail which is delicious. Here are a few extra pictures of the place we went to eat Crawfish. Enjoy!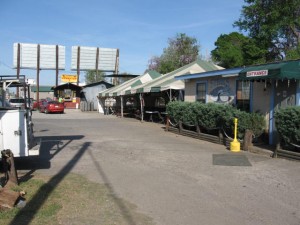 First rule to eating crawfish is to prepare your stomach. Eat a Rolaid or two before, during and after.
In Louisiana, when they cook crawfish, they WILL BE HOT and SPICY. Have plenty to drink.  Also, do not think ordering the corn on the cob and boiled potatoes will cool the crawfish down. They are as hot and spicy as the crawfish.  The crawfish are like little lobsters, they are alive when they put them into the boiling water.  And then when you eat them, it takes a little lesson on peeling them. They are not like boiled shrimp. You have to grab them where the head joins the tail, squeeze, twist and then pull the tail away from the head, making sure all the yucky stuff goes with the head part. A lot of people suck the stuff out of the head and eat it.  NOT ME!!!  In other words, to get to the delicious part of the meat to eat, you must work hard to learn the correct way to eat them, or you will get a bunch of ugly black stuff along with the good, tender meat.
I have also learned since my first crawfish, if you take the head off, peeled the first part of the shell off and then put the meat between your teeth and squeeze the tail, they are not as hot. Why? A lot of the hot sauce is on the outside of the shell, and that get on your fingers and you get more hot sauce that way. But, yes again, remember the corn on the cob and potatoes will always be hot. The juices cook all the way through them.
Yes, I do have a message out of this story, or maybe a lesson. 2 Timothy 2:15 Do your best to present yourself to God as one approved, a workman who does not need to be ashamed and who correctly handles the word of truth.
When God has something for you to do for Him, He not only prepares you for the task, but He expects you to prepare as well. You must study to show yourself approved, to be able to handle the job. I can tell you that not everyone who thinks they are called are ready for the responsibility. Doing Ministry for the Lord is a 24/7 job. Not just for Pastors and Evangelists, but also for the everyday Disciple.
You must pray, read your Bible, and spend alone time, just listening to the voice of God. Yes, He speaks, but we do not always listen. And when we do not prepare ourselves, that is when we so find out that we are getting head over heals into the yucky stuff.  A lot of people want the delicious tender meat, but do not want to work for it.  (They want the big churches with a lot of people following and working for them, and letting them get the praise, instead of God.) That is not how it goes.
In Ministry work, you must start at the bottom, and work up through the good, the bad, and the ugly.  You must be able to minister to someone not only by word of mouth, but by being able to say, "Friend, I know just what you are going through. But if you will hold on to God, He will pull you through this mess you are in. I promise you that there is nothing in your life that God cannot handle. See, he is the handler of the messy stuff.  The messier the mess, the more God likes it, because He knows when He brings you through it, you will be a better person. Then when you finally see daylight, oh how sweet and wonderfully delicious it will be!"
And friends, you do not experience this by sitting behind your desk everyday at the church. You have to get out in the streets, and meet the hurting, lost, and sick. I have been through the good, the bad, and the ugly myself. I know what it is like to be sick for years. I know what it is like to be lied to and talked about.  I know what it is like to think you have a good friend, but they stab you in the back.  Hey I have a T-Shirt to show for it. Several, as a matter of fact.
I have some good friends in New York. When I go to Minister for them, the one thing they say is, "Pastor Pat, you are honest and true. You tell it like it is. You do not put on a show." I just say, give God the glory, for I have been there, done that, and again, have a T-Shirt to show for it. Friends, I have been where you maybe are today. I know how you feel. In other words, you, like Cali and Iris may think, no way. I do not want anything to do with those crawfish (this mess I am in).  Just get me out of this right now. I cannot handle it  anymore. I promise you that you can handle it. For God will never let you go through anything that He and you cannot handle together.  And when you feel you cannot walk anymore, He will pick you up and carry you for a while. Please just remember what Jesus did for you on the cross. He did not have to go through it. He could have called Heaven's Angels down, and they would have rescued Him. But He chose to go through it, so He would be able to help you make it through your mess.
1 Corinthians 10:13
13 No temptation has overtaken you except such as is common to man; but God is faithful, who will not allow you to be tempted beyond what you are able, but with the temptation will also make the way of escape, that you may be able to bear it.
Friends, God loves you. He wants the best for you. But yes, sometimes mess happens. But just turn to God, and I promise you He will bring you through. There is nothing, no nothing so bad, that God cannot handle. So today, let God take you in His arms, and love you. Give Him your problems. Put them in God's 'to do' box. Leave them there, and I promise you that you will come out on top. You will be able to sit down at God's table and enjoy the delicious blessings of His mercy, grace and love.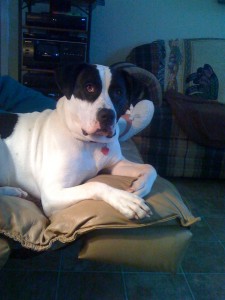 Tomorrow devotion preaching in Louisiana and getting ready to come back to North Carolina. Hey, you will soon find out about the tick and how it lead me to be able to minister to several people. Yes, a tick.  Hey, God has just out done Himself lately.