Hey, What About Me?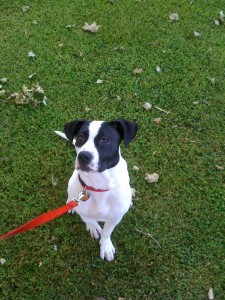 Well, we have settled in for before the next Revival begins. I would be preaching at Antioch Baptist Church on Sunday. Pastor Keith Evans is the Pastor at Antioch. We have known each other for a long time. Pastor Keith became a Evangelist as a teenager, and I was doing lay missions meetings at the same time. I will enjoy preaching on Sunday, because Antioch is my home church. I went to Antioch from 1969 to 1977, when I moved to North Carolina and married my husband, Joe.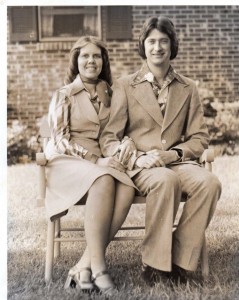 When I was getting ready to marry Joe and move to North Carolina, one of my jobs at Antioch was G.A. Director. Every Wednesday night, I would go around the community and pick up all the young girls who were in the G.A. Program. That is, before you were made to wear seat belts. We would have class three Wednesday nights a month, and then on the fourth Wednesday night we would go to Colonial Manner Nursing Home, where the girls adopted a lady to minister to that did not have a family.
When Joe went to move me to North Carolina, we had a special ceremony where the girls would present a program to the church, showing what they had done during the year. They would receive their crowns and certificates. I was so proud of them. I remember we all wore white long dresses, and they gave me a special bracelet and a award to remember them.
Now, the girls have grown up, and have children, and some grandchildren, of their own. Hey, I do not have any grandchildren myself, so why are they ahead of me?
Anyway, on with the story. I have already eaten catfish filets about three times since I have been here.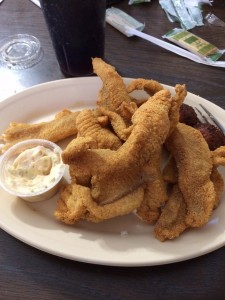 Louisiana catfish does not taste like North Carolina catfish. They are wonderful. There is a place in Rayville called the Feed Lot. It is open every day for lunch, and on Friday they have catfish filets and whole catfish on their buffet. They just laugh at me, because every time I go, I just get about fifteen pieces of fileted catfish on my plate, nothing else, no sides or anything, just the filets. Now the filets are only about an inch wide and about three to four inches long, fried in corn meal, salt, pepper, and special spices. Boy, they are good and they do not taste fishy.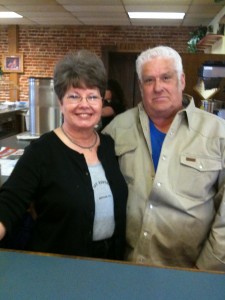 Well, today, Cali was upset because she could not go to lunch with us. I think it was because she thought we just might go get that ice cream I promised her. She decided to get under the night stand in the bedroom and pout. As I was getting dress she just looked at me and tried her best to make me feel bad. She was succeeding. It was as she was saying, "but, look at me, I need to go eat fish, and get some ice cream now. I really need it NOW!"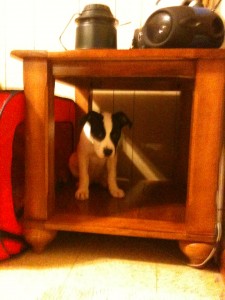 Please let me go…. I promise I will be good…..
I tried my best to explain to her that they did not allow puppy doggies in the restaurant or the ice cream place. But, I promised her that I would bring her a treat back from the store. That did seem to satisfy her for a while.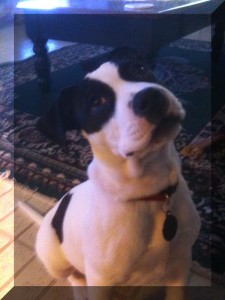 You know, we sometimes complain to God just the same way. Thank God, He knows and still loves us when we are pouting. Now, I do not want you to tell me that I am the only one who pouts at God at times. But again, He knows what is best for us. If we will not try to always get our way and wait the blessing (treat) is always better. God knows all of our needs and our desires. He knows when we are hurting, and need His HELP, NOW!
In Psalm 70:5, David felt the same way. He wanted God to help him, NOW! He told God do not delay!
Psalm 70:5
5 But I am poor and needy;
Make haste to me, O God!
You are my help and my deliverer;
O LORD, do not delay.
Anyway, we did go eat fish, and afterwards decided to take Iris around and show her some of the sights.
We went first to a building that looks like it was nothing, but at one time, back in the early 1900's, it was a Chapel. It was called Hunter's Chapel. Now, my maiden name is Hunter. This Chapel was built by my great uncle, Pastor Ed Hunter.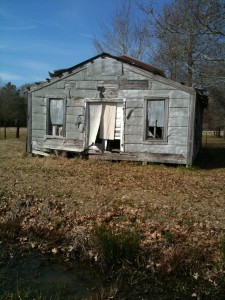 John 15: 1 – 8
The True Vine
1 "I am the true vine, and My Father is the vinedresser. 2 Every branch in Me that does not bear fruit He takes away; and every branch that bears fruit He prunes, that it may bear more fruit. 3 You are already clean because of the word which I have spoken to you. 4 Abide in Me, and I in you. As the branch cannot bear fruit of itself, unless it abides in the vine, neither can you, unless you abide in Me.
5 "I am the vine, you are the branches. He who abides in Me, and I in him, bears much fruit; for without Me you can do nothing. 6 If anyone does not abide in Me, he is cast out as a branch and is withered; and they gather them and throw them into the fire, and they are burned. 7 If you abide in Me, and My words abide in you, you will ask what you desire, and it shall be done for you. 8 By this My Father is glorified, that you bear much fruit; so you will be My disciples.
As I got out and looked at the old building it made me think. I wondered what kind of services they had here? Did they feel the touch of God? How early did they have to get up to get to church and how many miles did they come either by walking or horse and buggy? But, then I got to thinking about some of our churches now. They may have nice building and they come by cars, but how many of our churches are as dead as this old building is now. Sitting idle not doing what God wants and needs for them to do. People attending services, but God no where to be found. You know maybe some preachers and members need to do what my great uncle did as he lay in bed taking his last breathe. He called for my daddy to come to see him. When daddy arrived, he told daddy that he needed to make it right with the Lord. That he had failed the Lord in his later years. So right there on his death bed, my daddy prayed for his uncle. Uncle Ed said, "Raleigh, I know I preached many years, but did I really bear fruit for my Lord?"
So, I asked you today, are you bearing fruit for the Lord? My daddy's uncle got things straight between him the Lord. Maybe today, you need to get down on your knees and make things straight with the Lord. Maybe you need to call for Daddy God to come and talk to you and get your life straighten out.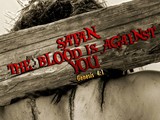 Before I left the old broken down building, I went over and got a piece of wood from around the window. A piece of wood to remind me to stay on track with the Lord. A piece of wood that would remind me often of the words my daddy's uncle said, "Did I really bear fruit for my Lord?"
After, we left Hunter's Chapel, we went on down the road to a little county store. I remember when my mama took Joe, my husband, there to get ice cream, his first words were, "is this a working facility?" Then Mama told him not to pull the car up to close because the porch could fall down on the car. Joe was more worried about the store falling down on us when we went inside. But anyway, I stopped, and Iris grabbed her camera, took some pictures, then we went in to share the fellowship and friendship over a cone of Blue Bonnet Ice Cream. Oh, I had chocolate, two scoops. Here are a couple pictures of the inside and out side of the store.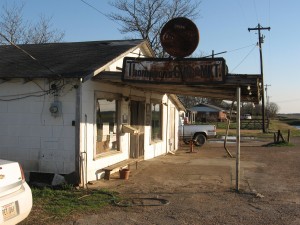 Mama Hunter eating ice cream…
This was my mama's favorite place to go get ice cream, as you can see….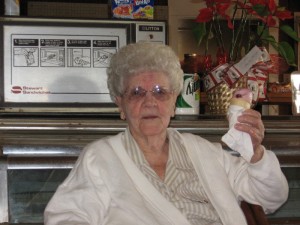 Now, we just go to remember the good times we had watching mama talking and not letting one drop of her ice cream go to waste. She loved strawberry, but, butter pecan came in a close second… I know she was looking down from Heaven the day we were there, smiling at us.
Friends, God wants us to have good times. He wants us to enjoy life. We all need to take the time to share our time with family and friends. Take a ride down a old county road. Stop and say hello to someone along the way. Do not let your life get so busy with the non-essential things, that you do not have the time to enjoy the important things. Simple things, like sharing a double scoop of chocolate ice cream with someone, while you are also sharing a double scoop of memories.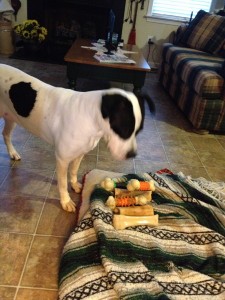 Oh, and for you that are Cali supporters, I did not forget to stop and get her a treat. I did not break my promise to her.
How sweet it is…. Counting and enjoying my treat just like grandma promised me….
Oh, sorry about the crawfish, you will have to read about them in tomorrows devotion. I will give you a little taste in the picture below, but tell you about the restaurant tomorrow.