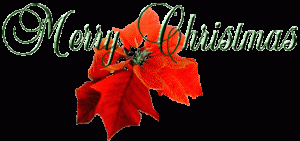 The History and a Story Legend of the Poinsettia
The popular Christmas flower know in this country as the poinsettia was first called a cuetlaxochitl by the Aztecs. It represented purity, and its name signified "Flower that withers, mortal flower that perishes like all that is pure".
Beautiful botanical gardens existed throughout the Aztec empire in pre-Hispanic times. Flowers and herbal plants were cultivated for their beauty and medicinal purposes. From October to mid-May, the cuetlaxochitl was admired because of its beauty.
One legend from sixteenth-century Mexico explains the flower's origin. Franciscan friars evangelizing the area of Taxco celebrated one Christmas with a lavishly decorated nativity scene. The rosary and a litany were prayed, a pinata was broken, gifts were exchanged, and a mass was held, during which a miracle occurred: the flower decorating the nativity scene turned red. After that night, the flower was named flor de nochbuena, Flower of the Blessed Night.
A charming story is told of Pepita, a poor Mexican girl who had no gift to present the Christ Child at Christmas Eve Services. As Pepita walked slowly to the chapel with her cousin Pedro, her heart was filled with sadness rather than joy.
"I am sure, Pepita, that even the most humble gift, if given in love, will be acceptable in His eyes," said Pedro consolingly.
Not knowing what else to do, Pepita knelt by the roadside and gathered a handful of common weeds, fashioning them into a small bouquet. Looking at the scraggly bunch of weeds, she felt more saddened and embarrassed than ever by the humbleness of her offering. She fought back a tear as she entered the small village chapel.
As she approached the alter, she remembered Pedro's kind words: "Even the most humble gift, if given in love, will be acceptable in His eyes." She felt her spirit lift as she knelt to lay the bouquet at the foot of the nativity scene.
Suddenly, the bouquet of weeds burst into blooms of brilliant red, and all who saw them were certain that they had witnessed a Christmas miracle right before their eyes.
From that day on, the bright red flowers were known as the Flores de Noche Buena, or Flowers of the Holy Night, for they bloomed each year during the Christmas season.