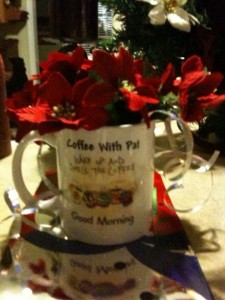 Come on over. The coffee is hot. Well, it will be when you get here. My Keurig bit the dust a couple of days ago but, I have a 10 cup maker.
We can talk and enjoy the fellowship.
We had a great Thanksgiving. We enjoyed the girls being home. Joe and I still pray that in God's timing, He will send them a sold out Man of God to fall in love with and have a happy and blessed life. As parents we want our children happy.
I guess I know that one day Joe and I will not be here. (Well, that is 50+ years from now) and we just do not want them to be alone. But, again, all in God's timing.
Remember, what and whom the CHRISTmas season is all about, as you are out shopping.
Jesus, the most important gift of all.
Take the time to smile and wish all a Merry Christmas. Let everyone see the true meaning of Christmas in you.
And there were in the same country shepherds abiding in the field, keeping watch over their flock by night. And, lo, the angel of the Lord came upon them, and the glory of the Lord shone round about them: and they were sore afraid. And the angel said unto them, Fear not: for, behold, I bring you good tidings of great joy, which shall be to all people. For unto you is born this day in the city of David a Saviour, which is Christ the Lord. And this shall be a sign unto you; Ye shall find the babe wrapped in swaddling clothes, lying in a manger. And suddenly there was with the angel a multitude of the heavenly host praising God, and saying, Glory to God in the highest, and on earth peace, good will toward men. (Luke 2:8-14)
Blessings, Love and Prayers,
Pastor Pat
Author: Pastor Pat Aman
Nov. 30, 2015
©1996/2015
CWPM1996/2015