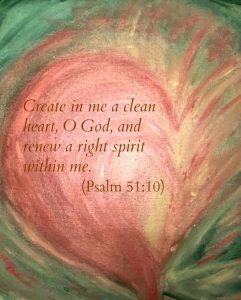 Coffee With Pat
God's Own Heart
Author: Pat Aman
Psalm 51:10
Create in me a clean heart, O God, And renew a steadfast spirit within me.
Have you ever thought, "I have done so many things wrong that I know God cannot forgive me. I want to tell you now that you are never too far away that you cannot call to the Heavenly Father, and He will answer your prayer and pick you up.
King David is known as a man after God's own heart. His Psalms, or songs, are some of the most well-known, most quoted lines in the world. David was the chosen King of Israel, chosen by God and anointed by His prophet. He knew amazing victories over Goliath and the enemies of God's chosen people. He knew humbling defeat slobbering and raving like a madman in fear of his life in an enemy land.
The story of David and Bathsheba is one that is the stuff of movies, poems and a fountain of seeming opposites. David and Bathsheba committed the sin of adultery, tried to cover up their fall so far that David committed murder in having her husband left in battle to be slain by the enemy. Her husband, Uriah, was one of David's most loyal and trusted men. David gave Uriah the sealed, written orders to the General that instructed the General to strand Uriah in the heat of the fight knowing that Uriah would never consider opening them.
After David takes Bathsheba as his wife, he is confronted by Nathan the
Prophet who informs David that while he has hidden his sin from man, that God knows. Nathan informs David that the child that Bathsheba carries will not live. David's heart breaks as he realizes his sin before His Lord Who has given him so very much. Out of his grief comes this psalm pleading for
forgiveness, and to be made right before God again.
The word create in the hebrew is bara, which is the same word used in Genesis chapter one. God creates the heavens and the earth by the sheer power of His will. With a word – single thought, out of absolutely
nothing, the universe is formed because He willed it to happen. David's request for God to create a clean heart in him is an acknowledgement of
several things. First, that David had sinned and his heart was the source
of that failure. Next, that his heart was beyond repair and needed to be replaced. Finally, that there was nothing clean in him to make the new heart that would be a pure replacement. David's plea is for God to create a new, pure heart for His fallen creation by the power of God's will out of nothing.
Romans 7:18 For I know that in me (that is, in my flesh,) dwelleth no good thing: for to will is present with me; but how to perform that which is good I find not.
David's thoughts mirror Paul's centuries later. And if we are brutally
honest with ourselves today, we have to agree that we are a total wreck left to ourselves. But the same mercy and grace that David and Paul both knew is still available to us from Jesus Christ. To David, He was the awaited Messiah. To Paul and those of us who know Jesus, He is risen Lord and Savior. In Jesus' sinless life we have victory over the power of sin that David and Paul understood so well. In Jesus' victory over the grave, we have eternal life in Him. When we understand this, we know the
forgiveness that says there is no longer any condemnation to those who will acknowledge Jesus as Lord and Savior.
David lived a year of his life, as a failure. He knew he had sinned. He knew that God knew he had sinned. When David became to the point his soul was in despair, he finally prayed a sincere plea to God.
God heard him, and forgave him.
I asked you today. Do you need forgiveness? If so, God is waiting with open arms.
Ezekiel 11:17-20 "Therefore say, 'Thus says the Lord GOD," I shall gather you from the peoples and assemble you out of the countries among which you have been scattered, and I shall give you the land of Israel. "'
18 "When they come there, they will remove all its detestable things and
all its abominations from it.
19 "And I shall give them one heart, and shall put a new spirit within
them. And I shall take the heart of stone out of their flesh and give them a heart of flesh,
20 that they may walk in My statutes and keep My ordinances, and do them. Then they will be My people, and I shall be their God.
If God will answer this prayer for His chosen people Israel, how much more will He do the same for the bride of Christ?
Devotion By: Pastor Pat Aman Book © 1996/2018 "Coffee With Pat Daily
Devotionals"
Study Notes: The New King James Bible
Unless otherwise stated, all content in this mail is © 1996 through 2018
by Coffee With Pat, and the Respected Authors.
Blessing, Love and Prayers,
Pat…