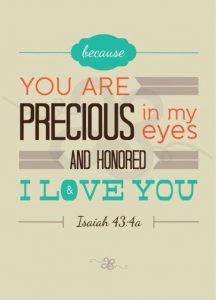 You Are Precious
Author: Pat Aman
2018 © WestBow/Thomas-Nelson
What a beautiful day. It has been raining so it is a little steamy out side, but we can say summer is now here.
It seem to have gone from winter to summer, skipping over spring time.
Winter just did not want to let go. Now we did have a few days here and there that the weather was prefect, but then winter returned.
This made me think about life.
In the coldest winter God give us a little touch of Spring to warm our hearts. And in time of trouble God gives us His son to brighten our day.
(Haggai 2:23) says, " In that day, says the Lord of hosts, I will take you, Zerubbabel, My servant the son of Shealtiel, says the Lord and will make you like a signet ring, for I have chosen you, says the Lord of Hosts."
Zerubbabel was precious to God. God gave the example of a signet ring, because a signet ring represented an article of special value to its owner. Zerubbabel's name remains recorded for all to see as a sign of the special place granted him by God, for he is listed in the genealogies of our Lord Jesus.
Zerubbabel let the Holy Spirit bring Faith's works alive in him. He sought God and trusted God to provide for all his needs. He made God a priority in his life.
We need to do the same. The challenge to faith is the same in every generation; seek first the things of God and trust Him to provide the daily necessities of life. The glorification of any work we pursue comes by the presence of God in it. God calls us to commit what we are, what we have and all that we do to Him.
Make the work of God a priority, both with your time and with your money. Understand that it is the presence of Jesus that produces glory.
Choose to believe and reckon what is true. Do not let selfish ambition and personal agenda be our focus on advancing God's kingdom.
Trust God, and walk in His ways, and He will bless us, as we give honor, praise and glory to Him.M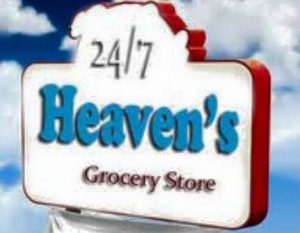 God bless each of you today. Have s beautiful, blessed and prosperous day. God loves you.
Matthew 6: 26 Look at the birds of the air; they do not sow or reap or store away in barns, and yet your heavenly Father feeds them. Are you not much more valuable than they? 27 Can any one of you by worrying add a single hour to your life? 28 "And why do you worry about clothes? See how the flowers of the field grow. They do not labor or spin.
"HEAVEN'S GROCERY STORE"
Author: Unknown
As I got a little closer
the door came open wide
And when I came to myself
I was standing inside.
I saw a host of ANGELS.
They were standing everywhere.
One handed me a basket and said,
"My Child shop with care".
Everything a Christian needed
was in that grocery store.
And all you couldn't carry,
you could come back the next day for more.
First, I got some PATIENCE:
LOVE was in the same row.
Further down was UNDERSTANDING:
You need that everywhere you go.
I got a box or two of WISDOM,
a bag or two of FAITH.
I just couldn't miss the HOLY GHOST,
For it was all over the place.
I stopped to get some STRENGTH and COURAGE
To help me run this race.
By then my basket was getting full,
But I remembered I needed some GRACE.
I didn't forget SALVATION,
For SALVATION was free,
So I tried to get enough of it for me, and have enough left over to share Jesus with all I see.
Then I started up to the counter
To pay my grocery bill,
For I thought I had everything
To do the MASTER'S Will.
As I went up the aisle, I saw PRAYER:
And I just had to put that in,
For I knew when I stepped outside,
I would run into Sin.
PEACE AND JOY were plenty
They were last on the shelf.
SONG and PRAISE were hanging near,
So I just helped myself.
Then I said to the angel,
"Now, how much do I owe?"
He smiled and said,
"Just take them everywhere you go."
Again, I smiled and said,
"How much do I really owe?"
He smiled again and said,
"MY CHILD, JESUS PAID YOUR BILL
A LONG, LONG TIME AGO."
Author: Author Unknown
God bless each of you,
Blessings, Love and Prayers,
Pastor Pat Aman
Pastor Pat Aman/©1996/2017
CWPM

"Train up a child in the way he should go: and when he is old, he will not depart from it."
‭‭Proverbs‬ ‭22:6‬ ‭
"Let the elders that rule well be counted worthy of double honour, especially they who labour in the word and doctrine."
‭‭1 Timothy‬ ‭5:17‬ ‭
"Thus saith the Lord, Stand ye in the ways, and see, and ask for the old paths, where is the good way, and walk therein, and ye shall find rest for your souls. But they said, We will not walk therein."
‭‭Jeremiah‬ ‭6:16
I can tell I have been further south the last couple weeks. WHY? Respect!
It has been so good to hear people of all colors, races and creed say yes, ma'am, no ma'am, bless you and thank you.
I maybe old fashion, but, I require it of our girls, even today.
You never get to old to show respect to your elders.
As a matter of fact, I said thank you sir, to a guy who was in in teens that held a door open for me. You would have thought I had given him a bag of gold with the big smile on his face.
Respect is respect.
Age does not matter.
Respect is a expression of love and honor.
If we show respect, we will receive respects.
We must not only teach our children manners, but, they must see us showing good manners.
Children will do as they see.
God bless each of you,
Blessings, Love and Prayers,
Pastor Pat Aman
Pastor Pat Aman ©1996/2017
CWPM