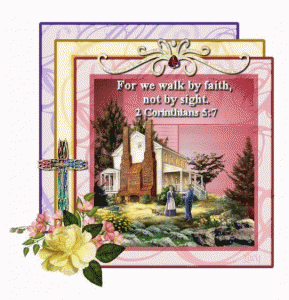 2 Corinthians 5:7 – We are to walk by FAITH and not by sight.
WOW! So, powerful few words that were ever written in God's Word.
Please read all the scriptures in the devotion below. You can read the entire scpritures in John chapter 11. I will add important life facts at the end.
I even think of Mary and Martha when Jesus delayed and Lazarus was put in the grave. They wondered why Jesus tarried. Even to the point, that when Jesus arrived, Martha said, " Lord, if You had been here, my brother would not have died. But even now I know that whatever You ask of God, God will give You."
But, still when Jesus told her, "Your brother will rise again."
She still questioned Jesus. And it says, "Jesus Wept."
Jesus did not wept because Lazarus was dead, He wept because of their unbelief, their lack of faith.
And Jesus could not do a thing until Martha and Mary gave Him permission to show them that He was the resurrection and the life.
When Jesus said, "Remove the stone." They said, Lord by this time there is a stench for he has been dead four days."
Jesus said to them, ":Did I not say to you that if you would believe you would see the glory of God?"
Then they took the stone away and Jesus said, "Father, I thank You that You have heard Me. And I know that You always hear Me. but because of the people who are standing by I said this, that they may believe that You sent Me."
And we know the end of the story. Lazarus came forth! And Jesus said, "Loose him, and let him go."
I, Myself, have had such a great burden in the passed year or so. I have prayed and not understood at times why things were going the way they were in areas of our lives.
I myself, had concerned so much that it was getting to me, and my health, but still I prayed.
But, a few weeks ago I told God, "Father God, you have to take care of this situation. I place it totally in Your hands. Father God give wisdom, knowledge, comprehension and commonsense where it is needed. Father God, I today turn it completely over to you."
Friends, I can say that tonight, I will rest soundly. Tonight I do not have a heavy heart anymore. For God answered my prayers and others as they were needed in His timing  not mine. And friends, God is always on time, even if it seems four days late.
So, tonight I Praise God for His answered prayers and blessing. I am singing praising to Him and Him alone.
For today, I learned and remembered the scripture, we must walk by faith and not by sight.
Blessings, Love, and Prayers,
Pastor Pat Aman
July 18, 2016
http://coffeewithpat.org
Devotion Written By: Pastor Pat Aman Book © 1996/2009/16 "Coffee With Pat Daily Devotions