Why Can't I Go To Church?
Part 7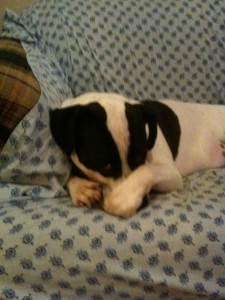 Well, Cali is not happy today. She cannot understand why she cannot go to church with us today. I tried to explain that I am preaching today at Antioch Baptist Church, and I will not be able to keep an eye on her. She tries to tell me that she will help me get the people's attention, and I am sure she could bring a lot of excitement to the church service.  Kind of like the song about the squirrel in the church, sung Ray Stevens. Hey, maybe I should have let her go.
Anyway, as I blow dry my hair, she comes over to get her hair blow dried also.  She just loves the blow dryer. She jumps up and down and has the best time.  This is a good thing, because after I bathe her she does not fuss when I blow dry her to get her all dry and shiny.
After much talking and trying to convince her that she just cannot go this time, she decides well, "I guess I will go back to bed then."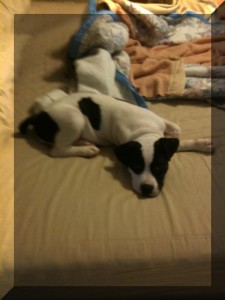 I  told her I do not think so, because Aunt Ruby will get us both. I reminded her that she was blessed just by her Aunt Ruby letting me bring her and letting her stay in the house. But, Aunt Ruby does not allow animals of any kind in her beds.  And also, I needed to make the bed after I got dressed.  One thing that Aunt Ruby likes is for everyone to make their beds daily, in case company would happen to come by to visit. She wants the house to look nice.
Cali still was not agreeing with me.  She did not want to move. I told her that she better get down or we both would be in trouble, mostly if she had an accident on Aunt Ruby's guest bed. Also, Aunt Ruby did not want her beds smelling like little puppies.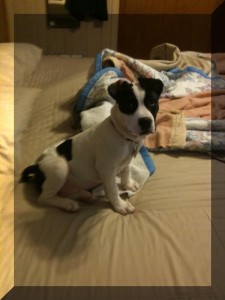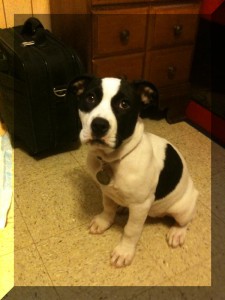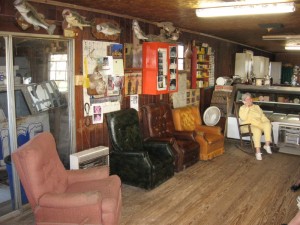 I finished dressing and decided we need to take a walk before I put Cali in her kennel. Bad idea. All I can say is I am glad the package came with two pair of hosiery in it.
Oh, I also found out that Cali did not need to go out, when  I stepped in my stocking feet to check my hair for one last time.   I told you she was mad.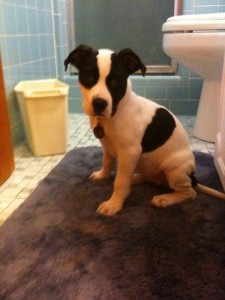 Time now running short, I promised Cali as I put her in her kennel that when I got back from church that we would watch the Dog Whisperer on TV. That seemed to satisfy her, and she relaxed, and off to church Ruby, Iris and myself went, knowing that it would be a long day, and I continued praying that Cali would understand.
We arrived at church for Sunday School, and I usually am never nervous, but I guess preaching in my home church some 33 years after I left, I did feel a little anxious, because I cannot even remember what the Sunday School lesson was about.
Good Friends of ours, Cleo and Sam Yeates, came to bring the special music. What a blessing they are, and so precious. They are such anointed singers. Their Ministry is called, "Still Amazed."  They traveled all over the United States, so where you may live is not too far.  Give them a call, you will be blessed and the Lord will be glorified.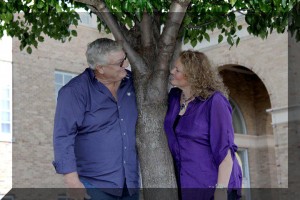 Praise God, when they started singing, I saw the preacher raise his hands. Whew, I thought, now I am a little more relaxed. Remember, I am an Ordained Pentecostal Holiness Minister, preaching in a Baptist Church today.  Well, that does not matter, because I preach in all denominations. I guess I was a little uneasy at first, because it was my home church.
I preached on Faith. I explained that we need to stand strong no matter what situation we may be in, because Jesus already knows the outcome when we put it in His hands.  I used Rizpah, from the Old Testament, and Peter casting his nets, from the New Testament. We had a good service, and God was glorified. Afterwards, we went out to Big John's to eat, then back home to rest, and to keep my promise to Cali.
On Monday, Pastor Keith Evans called me and told me that the message touched many lives, including his, and that he had needed to hear a word of hope.  All I can say is, "To God Be The Glory."
Again, we had a good day, even though I did seem to have a little headache that morning. I had even told Ruby that I must have slept wrong on my neck because my neck and head really hurt. But I just ignored it, and I went on about God's business for the day.
When we returned home, I put my jeans on, took something for my headache, and put Cali in my lap, and we both rested. Well, I rested, and she watched the Dog Whisperer. When the Dog Whisperer is on TV is the only time I ever see Cali being still, unless she is asleep.  I have decided just today that we should have named her Tigger, instead of Cali, because she is constantly on the move, bouncing off the walls.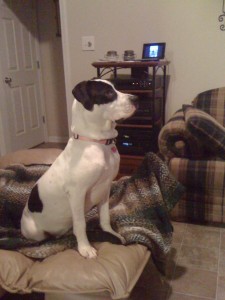 Maybe we need to be more like Cali, and stop and take the time to listen to God. Sometimes we get so busy that we let things distract us from hearing God's voice and we get ourselves into a big mess.  Just as Cali is learning from the Dog Whisperer by being still, maybe it is time we got still at the altar or maybe beside our bed and asked God what He wants for us, and not what we want for ourselves. For God wants the best for His children and be in health, even as thy soul prospereth.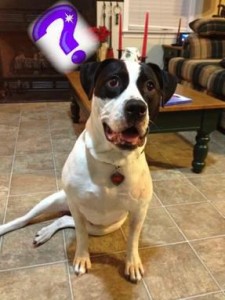 III John 2 – 4  
2Beloved, I wish above all things that thou mayest prosper and be in health, even as thy soul prospereth.
 3For I rejoiced greatly, when the brethren came and testified of the truth that is in thee, even as thou walkest in the truth.
 4I have no greater joy than to hear that my children walk in truth.
Tomorrow devotion I am sure will be about eating more catfish, and yes, just hold on, for the tick will soon show himself.