Leaving Georgia Headed to Cajun Country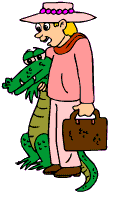 We got up early on the morning of the 24th of February headed for Louisiana. We were supposed to be headed to Atlanta, Georgia to put Cali on a flight to Hollywood. But again, changes. Flight canceled for this week.
Cali was upset because the flight had been canceled, so she is praying over the situation.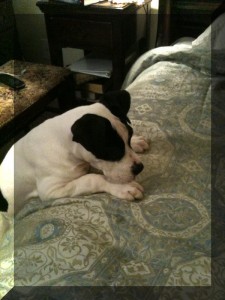 Cali was a little upset. She was soooo… looking forward to meeting her new Mama,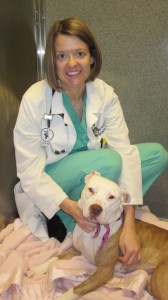 Dr. Anna Aman, DVM
Here Anna is taking care of Patty. Patty belong to the Pit Bull Boss from TV.
Cali said, if she can take care of movie star dogs, I know she will take care of me.
After we cleaned up her room, we settled down, but Cali begged to look at the computer.
Cali loves to sit in my lap when I am working on the computer. She kept watching me to see if I was going to pack my computer before she had a chance to check some new flight arrangements out. After much discussion, I decided to let Cali look at the computer to prove to her that her flight had been canceled.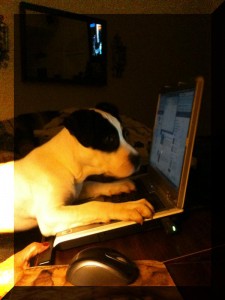 Oh, man, this can't be…
No flights to California today on Pet Airways…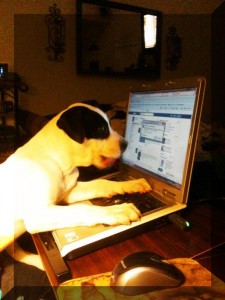 Hey, Grandma, I think I have found a flight for next Thursday….
Come check it out…
So at the insistence of Cali, I looked and called my daughter Anna so she could see if we could get her on the next flight. The airlines had told her because of the problem they would refund her money and fly Cali out on the next flight, the next week free.
So, if we could manage a couple of extra days in between Ministry Events, why not. We would change a few directions in our journey and put Cali on next weeks flight.
No problem, we were this far on this journey and also it put us a little closer to my sister Ruby's house, so I called her and said, Ruby, I have a little time I can come by your house, but I have a puppy with me. What do you think? Of course she said come on, I will take my allergy medicine and the puppy will be find, and I will be also.
So, another small detour and change. Preaching engagements (Cali really learning to enjoy going around the United States while grandma preaches and shares God's Word. )and still trying to get Cali on a flight to California. (Oh, have you realized yet that Cali is short for California.)
Anna thought of naming her Carolina, but I am a fan of North Carolina State University Wolfpacks, so her sister Tara and myself reminded her she could not be named Carolina. No Blue Tarheels,  just Wolkpack Red.
Also, her new mama Anna was a graduate of the North Carolina State University School of  Veterinarian Medicine. And her Aunt Tara is in the Graduate Program there and also works there.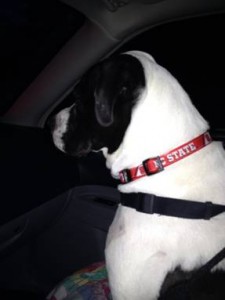 See, my leash. Wolfpack Red…
After we put Cali in the car to leave Cusseta, Georgia,  for the first time Cali just could not settle down. I almost never got on the road. I kept having to stop and let her out thinking she needed to potty, giving her water, and just playing with her.
I guess when she realized that since we were not going to the airport in Atlanta today, the GPS had been set to a different direction. She, in her heart was still hoping that the Airlines was wrong and she wanted to get on a plane to California, and not go to Louisiana.
Does this sound familiar. God wants us to change our plans at times, but we get stubborn and want our own way. We want to go in our own directions and do our own thing.
See, we need to let God lead us and go the path He wants for us. His word tells us that He wants nothing but good for us, but sometimes we bring hardships on ourselves by not listening to him. We must remember what His Word says in Jeremiah.
Jeremiah 29:11 For I know the plans I have for you," declares the LORD, "plans to prosper you and not to harm you, plans to give you hope and a future.
Anyway on this day the trip started a little rocky. I finally stopped again, went in a store and got Cali a special treat. She got in her kennel and started chewing away on her all natural vegetable shape bone.
Yes, I am talking to you here, as well as myself. Sometimes God will give us our way a little bit when we are being stubborn, and we think boy, this is good, I know I was right all along. But soon because we did not follow His plans the treat only lasted a little time, and then we realized we should have listen to that still small voice that leads us in the right path. For the prize at the end of God's path would have been much better for us, and we would have enjoyed the victory much longer.
After finally getting out of Georgia, we kept trucking on down the road headed to Louisiana. I promise Iris and Cali that I would see if we could eat some crawfish while in Louisiana. Well, Cali or Iris did not seem to impressed with the idea of eating something that they thought live in a ditch. I tried to explain to them that they were farm raised Crawfish. They both just looked at me and said, "Whatever."
I then said, "well, I promise to take you to the country store where Mama Hunter used to love to get ice cream." They both smiled, but I did not tell them where the store was, or how I really meant a real old county time store. Not a newly remodeled, or built to look like a old store, but the real thing. I felt that Cali and Iris needed a little surprise in their life. LOL
Anyway we arrived in Rayville, Louisiana around 6:30pm and I called Ruby and told we were going to stop and pick something up to eat and what would she like. We all agreed we would run by the Sonic and get a sandwich and a Route 44 sweet tea and Dr. Pepper, take it to Ruby's relax and enjoy.
We left the Sonic went about a mile and a half on a four lane main highway, then turned down a  very crooked country two lane road, called The Nelson Bend Road, headed towards my sister's home.  ( You know I need to find out why it is called Nelson Bend Road.) The reason the road is so crooked it follows the Beouf River. As we were making our way towards Ruby's house, Iris made the statement, "Hey, you meet yourself coming back on this road. " I thought, you ain't seen nothing yet." Now, both Iris and Cali enjoyed going over the Mississippi Bridge. In Mississippi the land is a little mountainous, but the minute you cross the Mississippi the land is flat as far as you can see. That was a treat for them, but now they were going to find out what country really is.
One thing that Iris noticed was the Louisiana, Mississippi line in right in the middle of the river. When you are crossing the bridge which is over a mile long, and you get to the middle of the bridge, there is a sign, (according to the direction you are going, either west or east.)  that shows, Louisiana State line, as for us because we were going west.
Now who decided this is where the line would be? On the Mississippi side you have gambling casino's up and down the Mississippi River. But there are none on the Louisiana side which is odd if you know any history of Louisiana politics
We went about seven miles then I turned on to another country road that had no lines in it, and the Cypress Trees were right up at the roads edge with moss hanging over the road. And of course the trees were in what we called the break, others call a Bayou. I explained to Cali, NO, stopping here to potty, or she might become a snack for an Alligator.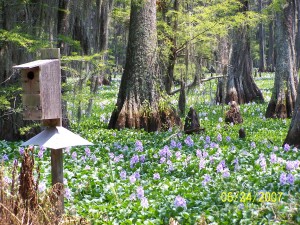 This is the Break (Bayou) that is behind Ruby's Daughter Home.
Oh, while we were in Georgia, Hubert whom came over to Junior and Frances to visit us, had told Iris that when he was a young his parents came to Louisiana to visit. And while they were there my niece Jackie and myself took them down a long road that had big trees with moss in them. A very crooked road. Not paved at that time, just a gravel road. He also told Iris and Cali that he heard Pat say to Jackie, "Break," but really did not play attention, because it was dark and a little scary. Then all of a sudden, Pat shammed on her breaks, blew the car horn and Jackie and her screamed to the top of their lungs. Then Jackie and Pat laughed as they watched my sister, Joyce,  and me climbing out of the floorboard of the car, needing to change clothes as soon as they got back to the house.
We always love to play that prank on the kids.
Yes, this is the same road that I now have Iris and Cali on. NO, I did not play the trick on them.
Now do not get me wrong, if you see this area, you will see how beautiful it is. So relaxing and peaceful, just do not step into the Bayou. (This is another story I will share sometimes. But I will say, that my brother James said that he went hunting out in the break one day. When he stopped and looked around there was a snake on every log, and that is when he had the faith of Peter and walked on water.)
Sometimes God may take you down a road that you may not quite be sure of, but do not worry, He knows what He is doing. Just have the faith of Peter and step out of the boat. The outcome will be wonderful. The end of the road will be well worth the wait. So, don't stop and get out to go find your own way. You might meet and Alligator in your path. You know, that thing called satan.
Anyway, after going down this road a little over a mile, we turned down a smaller road, but at the end of that road was a huge beautiful brick home with a wonderful large yard, pecan trees, magnolia trees, pastures with lots of cows, sitting in the Bend of the banks of the Bouef River. 
Iris and Cali were so relieved. They were beginning to say, "where in the world is she taking us?"
See, we cannot always go by what we see. God knows what the end of the road will be like. And friends, it is well worth the wait. Oh, the beauty of God's handiwork in our lives. We may go down many crooked and narrow roads, some maybe at times a little scary and even make us feel uncertain at times, but this is just a growing process for us.  But oh my, what splendor is waiting for us when we arrive at our destination. Praise God and All Glory Be To God.
Now, just wait for tomorrow night. Remember, I said pasture with cows. Now that is another story.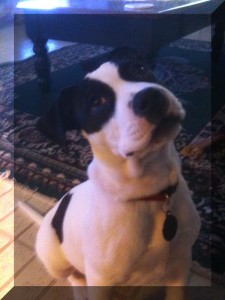 Cali saying hello to her Aunt Ruby…
Also, saying thank you to her for letting her stay in the house and not outside with those big funny looking things…