Part 2
The Adventures of Pastor Pat and Cali
I do hope you enjoy the next few nights of The Adventures of Pastor Pat, Cali, and Iris. You will see and hear more about Iris in the Louisiana section.
By the end of this series, you will see many miracles that God has performed, and how many people were touched, including myself,  just because I was obedient and accepted change.
Also, how He allowed certain things to happen that would affect the coming days, and people, in mighty ways.
Also, if you missed Part I of this series, scroll down to yesterday's devotion.
Cali, first night in North Carolina, at Aunt Tara's
2 pounds of love. As you can see in picture below, her toy and she were the same size.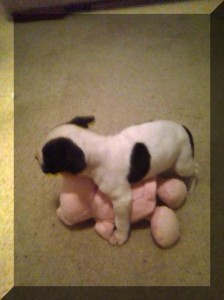 Cali came to us via her Aunt Tara.  Again, I said, "how did I get involved with this situation? And little did I know that Cali and I would soon become traveling partners.
When we first brought Cali to our house, our dogs, Sara and Katie, thought, "Oh no! What is this thing?"
Sara and Katie saying, "What is this thing?" Pictures below tell the or show the conversation.
Cali's first day at grandma's
Sara whispering to her, "Now here is how it is, if you do not piddle on the floor, you will get Grandma to do anything for you. Now take my advice on this, okay?."
Well, all I can say is Cali listened pretty good. And she is an excellent traveler.
We left Florida for Cusseta, Georgia, on February 23rd. Cali in tow in the back seat, in her portable kennel. Iris riding shotgun, and of course, myself driving.
Why were we going to Georgia anyway? Remember, to put Cali on a plane for California, which would leave from Atlanta, something that has not happened yet.
Again, how do you handle change in your schedule, or your plans? You listen to God and just do it. Do not stress over it, just go with the flow.
So, while passing from Florida to Atlanta we would be going right by our dear friends' house, Junior and Frances. How did I meet these people down in Georgia?  My daddy was in civil service at Ft. Benning, and my family lived in Cusseta when I was in the 4th through 9th grades.
I would have gone to Cusseta School for the 10th grade, but our school was burned to the ground the night before the first day of desegregation was to begin. So, we were bussed to Buena Vista, Georgia, to attend school.
I also walked the aisle at Cusseta Baptist Church at the age of 10, to give my life to God to be a Missionary, to preach His word. And of course First Baptist Church in Dothan, Alabama is where I was saved at the age of 5 years old. So, traveling and ministering through my old stomping grounds was an honor for me. "God is so Good. All the time God is Good."
Oh, I also had my very first double date there in Cusseta, one week before I turned 16. My daddy was not happy at all with the decision of Mama letting me go to the party. Only 3 houses down from our house. LOL
Anyway we dated for over a year, until my daddy retired and we moved to Louisiana. Don't tell Joe, (I got my first kiss in Cusseta.) Hey, it does not bother Joe. We went to a class reunion there, and Joe got a picture of me giving Jim a hug, and him hugging me back. My girls said, "Mom, he was and is cute." They showed pictures of us in school. I told them to look at their dad, I have pretty good taste. LOL
This is the reason I was excited about visiting old friends. What a time we had. Even Cali was welcome in their home. I called them ahead of time and made sure. As you can see below, they gave her a nice place to sleep the one night we were there. Now, they were, as my sister Ruby, not really pleased about it, but they helped us out in our need.
Oh, by the way, since Cali stayed in their home, well they say that they blame it on me. LOL They now have a 5 pound puppy. A Yorkie. Hummmm? Cali must have touched their sweet hearts with her sweet heart.
Cali resting after a long day of traveling to Georgia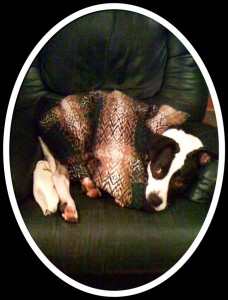 After arriving at their home, I asked Frances if I could do some wash. She said please go ahead, make yourself at home. So, I got my dirty clothes out of the car and took them to the utility room.  Frances had told me she had some clothes in the washer and dryer, but as soon as they were removed I could wash them.
I continued to get our things out of the car, and got Cali settled and walked her. Then she ate, and was ready for a long nap.
Junior and Frances were so surprised that Cali did not bark or whine one time. She is such a good puppy.
While I was there, another friend, Judy, dropped in to visit and I forgot the wash. We began talking about the Lord, and praying for her brother, Peter, and time flew by so fast. It must have been over an hour, because the next thing I knew, Frances had already started the first load, and began to put it in the dryer. She came into the living room, and in her hand was… guess what? My necklace. Yes, the necklace was somewhere in my clothes all day long the day I lost it. I realized that it was not on my neck when we were at Iris' granddaughter's house in Florida around lunch time, so I went over 12 hours with the necklace in my clothes somewhere. I still do not know how nor where.
Listen, we even went out to eat that night at the Cracker Barrel, and the necklace still stayed in my clothes. That is also the night Iris' granddaughter came back to the hotel, helped me look for my necklace, and I even called myself checking my clothes while they were still on me. That is also the night that I was down on the floor picking up millions and zillions of pieces of telephone book. And that necklace miraculously did not fall out of my clothes. And because I got so hot and sweaty looking for the necklace and cleaning up after Cali, I pulled my clothes off and put in the dirty clothes bag. I usually would wear a pair of jeans two days in a row. But not that night. I only wore those jeans once. (See, God still doing His thing.)
See how good God is to us if we are living according to His word?  He knows the desires of our heart and things that are so special to us, even small things like a necklace.
John 15:7
If you abide in me, and my words abide in you, you can asked what you will and it shall be!!!
See, that little word, "IF."  If you are following this verse, you will only want what God wants for you, and your desires shall be God's desires also.
God knew I loved that necklace, and He allowed it to hang somewhere in my clothes, and not fall off the entire day. Again, even while I was on the floor picking up pieces of the phone book that Cali and shredded.
Hey, you may have some tough times, but know that God is always there for you. I did not like having to clean the room after Cali's assault attack on the phone book, but I did not get mad, I just told her NO! Bad! and starting cleaning the room. Afterwards, she walked up to the side of the bed, and wanted me to pick her up. I did and she told me she was sorry, by giving me a lot of sweet puppy kisses on the side of my neck. I will not let any dog kiss me on the face,  and I do not allow dogs in my bed also, but wait until about Part 4 of this series.
The tiny chain was in a hundred little knots. But between Junior, Frances and Iris, they got them all out by using a needle. The heart was not even hurt in the wash. Hey, another miracle, the small necklace did not spin out and down the drain while the washer was in spin cycle.  God doing His thing again.
We had the best time. Frances cooked the most delicious Taco Soup and homemade cornbread. I was in hog heaven. She put broccoli and cheese in her cornbread. Honey, it was so good that it would make you as we say in the south, 'want to slap your grandma.' LOL (not really we respect our elders. It is just a saying."
Another friend, Hubert, and his family, came for supper, and he brought deer chili. I had already filled up on the soup, but I told Hubert I wanted to taste his chili and see if he was a good cook. I said now I only want just a little, like barely 1/4 of a bowl. I can tell you that he does not know his measurements, because I also inquired how much hot sauce was in the chili. He said he only put a teaspoon in the pot.  I reminded him I may have been born in Louisiana, but my stomach was now North Carolina.   Again, he must have been sick the day they studied measurements in school. My first bite was I thought okay, but then by the second, steam was coming out my ears. He was laughing at me, and saying, "Pat you do not need to finish it." I tried a little more to be polite, but soon handed him the bowl and asked to look at the teaspoon he used. The chili was delicious, and if my mama was alive she would have enjoyed seeing all these friends grown up, and doing so well, and she could have eaten Hubert's chili. She ate hot and spicy things, until just a few weeks before she took her Heavenly Journey Home, at the age of 93.
After company left, we sat around talking about old times, and of course the Lord. I prayed for Frances' body to be healed, and we had church. Then we all went to bed. The next morning we got up, packed and headed for Louisiana.
Now remember from last nights story,  ticks, and me walking Cali when I got to Georgia, and in Georgia several times. Well, tomorrow you will learn a little more of that story. Also, look forward to Cali and the Cows, Iris and the Crawfish boil, Hunter's Chapel, Revival, Ice Cream and much more.
Please know that change happens. It sometimes happens for a reason and a season. Do not worry, just hold on to God.
As Cali says below: How sweet it is.
Oh, I ate to much. But how sweet it is……..
Devotion Written and Posted By: Pastor Pat Aman  Book © 1996/2015, "Coffee With Pat Daily Devotionals"