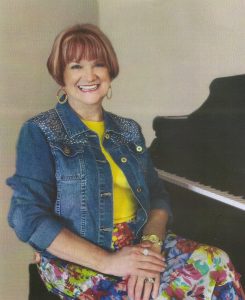 Please as Sunday, is the anniversary of 9 -11, listen to the video that our dear friend Lucy wrote and recorded.
This inspirational song was written and performed by Lucy Hemingway of New Life Baptist Church in Hope Mills, NC. It was inspired by an article written in the Paraglide Military Newspaper about a soldier who was killed in Afghanistan. The story featured one of the soldiers daughters Ashlyn Rodgers holding an American flag as she stated "When I hold the flag, I fee…l like I'm holding my daddy." Her daddy Chief Warrant Officer 2, Joshua Rodgers served his county and gave his life for our Freedom. This video is dedicated to all of the brave men and women of the United States military and their families. Thank you for all of the many great sacrifices you give to keep our country free. May God continue to bless America.
Joe and I had lunch with a very close and dear friend today. Lucy and I attended the same church over 20 years ago. As Lucy said today, "God has bought our family and hers back together for this Season of Revival. Lucy was playing the piano by ear at the age of three, taught by her mother. Her early years were devoted to County Music which led to a regular TV appearance and her first record. At the age of 30, Lucy Hemingway gave her life to the Lord and was delivered from alcohol and depression. Since then her music has been dedicated to God's service. She has ministered in countless churches, TV shows, schools, weddings, birthday parties, and practically every venue. She has written over 700 songs, a dozen cantatas, and is working on her second book. Lucy is currently signed with Ephesus Records as an artist and House of Burgess Music Publishing as a writer. She has lifted God through her music at Billy Graham Convention, appearances on Niteline, 700 Club, PTL Grand Hotel, and her songs have been recorded by several National Artists. One I love is The Blood Covers It All recorded by The Greenes.
I will tell you this, that Lucy wants no praise and honor. She gives all Praise and Honor to her Father God.
All Copyrights and First Rights belong to Lucy Hemingway Ministries
This inspirational song was written and performed by Lucy Hemingway of New Life Baptist Church in Hope Mills, NC. It was inspired by an article written in th…