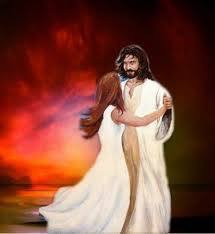 Don't Forget To Dance!
Devotion Written By: Pastor Pat Aman
Copyright: 2005
"GUIDANCE"
Let them praise his name in the dance: let them sing praises unto him with the timbrel and harp. Psalm 149:3
When I meditated on the word GUIDANCE, I kept seeing "dance" at the end of the word. I remember reading that doing God's will is a lot like dancing. I do not even know how to dance so this was soul stirring to me.
But I do remember that when Joe and I owned our own business, we use to go to a lot of conventions. There was a older couple, in their 70's who went to the conventions every year also. They did Ball Room dancing. I remember loving to watch them dance. It was like a glove on a hand. It fit perfectly. They flowed like two doves soaring in the sky. Each one seem to know what the other wanted. The woman seem to float as her partner lead the way. It was beautiful.
This makes me think again about the word
"Gui-dance."
When two people try to lead, nothing feels right. The movement doesn't flow with the music, and everything is quite uncomfortable and jerky.
When one person realizes and lets the other lead, both bodies begin to flow with the music. One gives gentle cues, perhaps with a nudge to the back or by pressing lightly in one direction or another. It's as if two become one body, moving beautifully. The dance takes surrender, willingness, and attentiveness from one person and gentle guidance and skill from the other.
My eyes drew back to the word GUIDANCE.
When I saw "G," I thought of God, followed by "u" and "i." "God, 'u" and "i" dance." ! !
God, you, and I dance
This statement is what guidance means to me.
As I lowered my head, I became willing to trust that I would get guidance about my life. Once again, I became willing to let God lead.
See, I (we) do not let God lead our lives we will never be in a close relationship with God. It is like having a head knowledge of Him and not a heart knowledge of Him.
I do not know about you, but I want to continue to dance with God, and letting Him lead me. I want to dance with God.
My prayer for you today is that God's blessings and mercies be upon you and your family on this day and everyday. May you abide in Him as He abides in you.
John 15:7 says, "If you abide in me and my words abide in you, you may ask what you will and it will be."
Dance together with God, trusting Him to lead and to guide you through each season of your life.
God, I ask you to bless my friends, relatives and e-mail friends reading this right now. Show them a new revelation of your love and power of the Holy! Spirit. ! I ask You to minister to their spirit at this very moment. Where there is self-doubt, release a renewed confidence through Your grace. My prayer is they learn to dance with you.
Matthew Henry Commentary
149:1-5 New mercies continually demand new songs of praise, upon earth and in heaven. And the children of Zion have not only to bless the God who made them, but to rejoice in him, as having created them in Christ Jesus unto good works, and formed them saints as well as men. The Lord takes pleasure in his people; they should rejoice in Him. When the Lord has made sinners feel their wants and unworthiness, he will adorn them with the graces of his Spirit, and cause them to bear his image, and rejoice in his happiness for ever. Let his saints employ their waking hours upon their beds in songs of praise. Let them rejoice, even upon the bed of death, assured that they are going to eternal rest and glory.
I Hope You Dance!!!
Blessings, Love and Prayers,
Pastor Pat Aman
Also please know that; I thank my God every
time I remember you. In all my prayers for
all of you, I always pray with joy For when
I end each message with "My Love & Prayers," I truly mean that,
for I pray for each of you every evening! ( PHILIPPIANS 1:3-4 )
(Nehemiah 8:10)
"The Joy Of The Lord, Is Your Strength."
(Proverbs 17:22)
"A Merry Heart Does Good, Like Medicine, But A Broken Spirit Dries The Bones."
Devotion Written or By: Pastor Pat Aman Book "Coffee With Pat Daily Devotionals"
Study Notes: The New King James Bible
Unless otherwise stated, all content in this mail is © 1996 through 2011 by Coffee With Pat, and the Respected Authors, and may not be copies or reprinted without permission of the author.