Get The Behind Me Satan!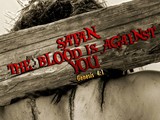 This week I told someone a quote I really like, which goes like this, "when satan knocks at your door, ask Jesus to answer the door  for you."
But the quote I really like Is: , "Be the type of lady or man, that when you arise in the morning, the devil says, OH CRAP! SHE'S UP! or HE'S UP!" (smile)
We as Christians should not ever be afraid of satan, but he should be afraid of us. If we are reading God's Word, Witnessing and Praying daily, satan does not have a leg to stand on in our lives.
John 15:7
"If you abide in Me and My Word abides in you, you may asked what you will and it shall be."
Jesus defeated satan in the wilderness by saying, "satan it is written." We should also be able to say, "satan it is written," and quote the Word of God over anything that satan tries to throw at us.
We give satan to much credit. We give him to much rope in our lives and he hangs on.
It is time we cut that rope with the Word of God. It is time to remember that any and everything that has a name has to bow down in the Name and by the Name of Jesus.
It is time for a change. It is time for satan to fear us waking up each morning, because he knows we are going to read God's Word, Pray and Witness for Christ, which he does not want us to do.
It is time to scare the mess out of satan so much that he says, "Crap they're up.
I actually started to use another word instead of mess, ( you know the place satan is going to live for eternity,) but I figured that I had already upset the apple cart for some of you by using the word crap in this devotion. LOL
Oh, the ones of you that watch Duck Dynasty each week and hear the word, crap, know that is a Louisiana expression. And, this is a repeat devotion from 1998.
Well, I guess, I need to break myself from using it, but, hey, as long as God is happy, happy, happy, with what He has me doing for Him. What stop now!
Hey folks it's time to get real. The world is sick and tired of Holy then Thou Christians. Let the world know we are just sinners saved by the mercy and grace of God. Remember don't be so religious acting that you scare people away for God.!
Just another note:
A few weeks back I got a note on my door that was letting me know that a new house cleaning service was able in our area. The note laid on my kitchen bar a couple of weeks, which is unusual because I do not like things laying around.
Any way, I decided to call and get them to come by and give me an estimate for a deep cleaning. They came by we talked and I hired them.
While they were here, I asked them about where they go to church? One of them spoke us and said we are looking for a church, so I told them about Pastor Ron Barefoot new church plant in Angier, NC. I told them it was a great church and gave them the name, (Crosswalk) and gave them directions.
Well, Praise be to God, she called me tonight and said they loved the church. She said she and her family felt the love of God when they walked through the door, AND, the entire family was saved, going to be Baptized together and join the church.
PEOPLE, Praise God Almighty. See, I listen to the Holy Spirit that directed me to call them to come clean my house just so I could plant a seed in them, and then look now, they went to Crosswalk Church, and Pastor Ron and his fellowship watered that seed. God is so GOOD!
Blessings, Love and Prayers,
Pastor Pat Aman
Also, please know that:
I thank my God every time I remember you. In all my prayers for all of you, I always pray with Joy.
Philippians 1: 3-4
I end each message with "My Blessings, Love & Prayers," I truly mean that, and I pray for each of you every morning and evening.
Pastor Pat
All Rights Reserved
Coffee With Pat Ministries
Written By: Pat Aman 1998- March 3, 2013-2015
©1996/2015
CWPM1996/2015
Notes: The New King James Bible​