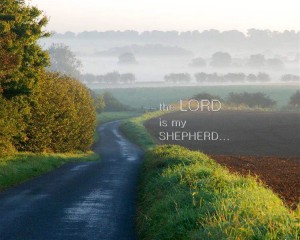 "Is The Lord Your Shepard?"
Today let's look at Psalm 23. Read each verse and realized that God is always there for us, no matter what our circumstances. He loves His children, and wants the best for all of us.
Psalm 23: 1-6, 1The LORD is my shepherd; I shall not want.
2 He maketh me to lie down in green pastures: he leadeth me beside the still waters.
3 He restoreth my soul: he leadeth me in the paths of righteousness for his name's sake.
4 Yea, though I walk through the valley of the shadow of death, I will fear no evil: for thou art with me; thy rod and thy staff they comfort me.
5 Thou preparest a table before me in the presence of mine enemies: thou anointest my head with oil; my cup runneth over.
6 Surely goodness and mercy shall follow me all the days of my life: and I will dwell in the house of the LORD for ever.
God's people must actively, consciously trust that God's Word is true and that He always acts in accordance with it. Every situation we encounter is an opportunity to choose to trust God rather than our own inclinations. Faith involves an element of risk, but always yields the richest dividends. Choose to believe that the Lord will never forsake you when you trust Him. Know that the Word of God has been proven to be absolutely trustworthy. Expect Jesus' shepherding care. Believe the Lord for your vindication, not seeking it yourself. Consciously commit all your plans to the Lord daily.
Do not presume His help if it is uninvited. We need to remember that God has allowed each of us our own self – will. God is a gentleman and will not go against our will. This is the reason we do not need to presume His help if it is uninvited. God will run to us with open arms when we depend on Him and call on Him.
Joyfully, In The Master's Service
Blessings, Prayers and Love,
Pastor Pat
©1996/2015
CWPM1996/2015
Notes: The New King James Bibleb