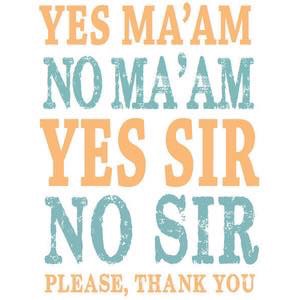 "Train up a child in the way he should go: and when he is old, he will not depart from it."
‭‭Proverbs‬ ‭22:6‬ ‭
"Let the elders that rule well be counted worthy of double honour, especially they who labour in the word and doctrine."
‭‭1 Timothy‬ ‭5:17‬ ‭
"Thus saith the Lord, Stand ye in the ways, and see, and ask for the old paths, where is the good way, and walk therein, and ye shall find rest for your souls. But they said, We will not walk therein."
‭‭Jeremiah‬ ‭6:16
I can tell I have been further south the last couple weeks. WHY? Respect!
It has been so good to hear people of all colors, races and creed say yes, ma'am, no ma'am, bless you and thank you.
I maybe old fashion, but, I require it of our girls, even today.
You never get to old to show respect to your elders.
As a matter of fact, I said thank you sir, to a guy who was in in teens that held a door open for me. You would have thought I had given him a bag of gold with the big smile on his face.
Respect is respect.
Age does not matter.
Respect is a expression of love and honor.
If we show respect, we will receive respects.
We must not only teach our children manners, but, they must see us showing good manners.
Children will do as they see.
God bless each of you,
Blessings, Love and Prayers,
Pastor Pat Aman
Pastor Pat Aman/©1996/2017
CWPM