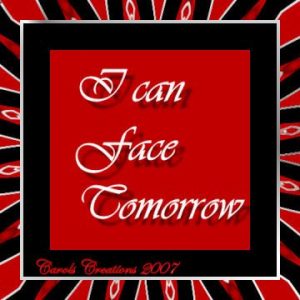 Roll with the Punches
Author: Pat Aman
I know I am not alone when God's timing seems to not be in line of what I think my timing should be. There are so many times in my life that I have goof up by not waiting on God. I got in a hurry and boy did I pay the price.
Maybe you feel that God is leading you in one direction, but it maybe your own wants and desires and not God's desire for your life.  I will say you will find out fast that God is in control, because he will start allowing obstacles to pop up, and road blocks.  He is not stopping you from fulfilling your dream, He is just trying to tell you that the timing may not be right. So, do not fret, just want on God and when you reach your dream it will be bigger than you could have ever realized.
Remember that God is always on time. Just stand still and let Him do His thing.
I know right now as another couple and Joe and I are trying to help get a old rotten, holes in floor trailor ready for a lady, we have tried to get ahead of God. Even maybe went to people with our requests. BUT, God has shown us that He is in charge of this task. He has it under control and He is laying on the hearts of people He wants to help us, and He is blessing them back BIG Time.
We have had people who needs help themselves sow seeds into this project and God is blessing them back 100 fold even before they get home. The calls we are recieving are just amazing.
In the Bible we read of Paul who frustration and trying to do it his way did not work. But God's did.
In the verse below you will read of one of those times in Pauls life. So, take heed to Pauls frustration and see how God worked it for His glory and not Pauls.
Acts 20:16 For Paul had decided to sail past Ephesus in order that he might not have to spend time in Asia; for he was hurrying to be in Jerusalem, if possible, on the day of Pentecost.
Paul had made it known earlier that he had wanted to be in Jerusalem for the Passover. Here he is obviously still a long journey away and the date is past. He is not wild-eyed with frustration, or crushed under grief or anything in between with the fact that his plans had to be adjusted. He is adjusting them and leaving the outcome to God. He passes by Ephesus. He probably felt that stopping there would be a significant delay, and he was probably right.
But that little clause – if possible – says that Paul knew God was in control. If God had wanted Paul in Jerusalem for the Passover, He would have simply done with Paul as was done with Phillip when Phillip was literally transported to the place where the Etheopean eunuch was passing by in his chariot. Poof! And Paul would have been there for the Passover dinner. Paul was sidestepping attempts on his life during his return trip. It was not clear that he would return at all.
If possible made allowance for God to send Paul to places like Ephesus along with significant delays for the purposes of the Lord. Our schedules can be very important things to us. Preparation for a test or a special event can draw a great deal of our focus. But if God can move Kings and Kingdoms to satisfy His plans, our schedules don't really stand a chance.
Phil 4:11-13 Not that I speak from want; for I have learned to be content in whatever circumstances I am. 12 I know how to get along with humble means, and I also know how to live in prosperity; in any and every circumstance I have learned the secret of being filled and going hungry, both of having abundance and suffering need. 13 I can do all things through Him who strengthens me.
Having our plans deviated is frustrating, or it can be. Paul had learned to roll with the punches and let God do with Paul as He needed. He had suffered a few punches – shipwrecked, stoned and left for dead, snakebite by a viper. That sure does put the wrinkle in our schedules into perspective. Try to see the little things that go astray during the day from the perspective that God may be working in your life. Trust Jesus with the little things in your life, and the big things will move into place where He wants them.
SEE, we can face tomorrow for God is in control and He knows what is best for us.
Joyfully, In The Master's Service
Blessings, Prayers and Love,
Pastor Pat
Pastor Pat Aman/©1996/2016
CWP Ministries